14 Oct

The Ceremony :: Creating Rituals

So your planning your wedding and up pops the questions of what type of ceremony you would like. Short and sweet? Religious? Unity candle? Sand or wine ceremony? Most officiates have a few examples of ceremonies they have done in the past and will tailor these ceremonies to you, you send in your info and there you go—your ceremony script is decided. But wait! Why not get a little creative with it and create your own ceremony rituals—something that speaks to you. Even though you may not identify with a religion or spirituality, your relationship to your partner can be, and often is, very spiritual—so embrace it! Here are a few ideas we have about incorporating more of YOU into your ceremony.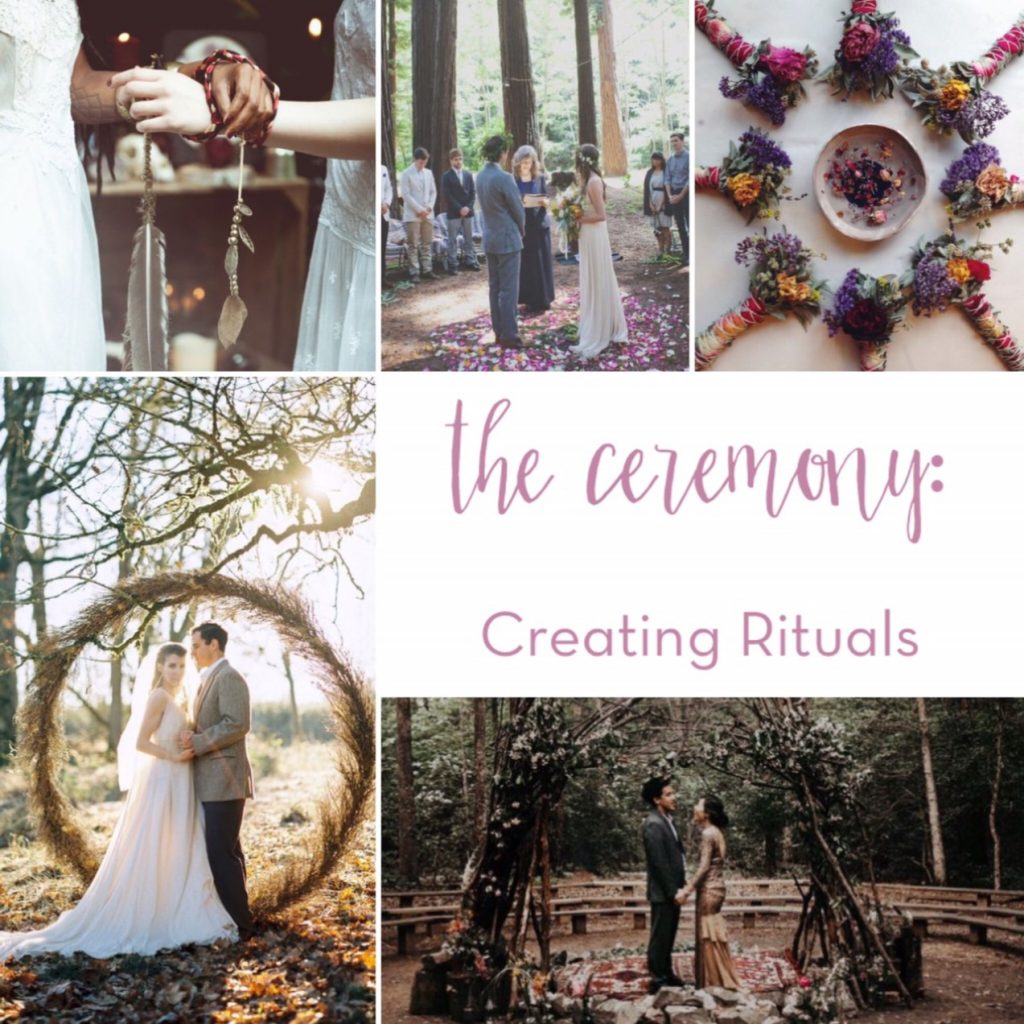 IMAGE CREDITS AND LINKS :: LEFT TO RIGHT/TOP TO BOTTOM
handfasting; forest ceremony; smudge sticks; Nordic ceremony; forest ceremony
Smudge each other! Throughout history, the burning of natural substances has been used for cleansing, healing and spiritual purposes. Its done by burning herbs such as sage, lavender and sweetgrass to clear energies and bring about positive energies. What better way to enter into a life with each other then by clearing away past negative energies to make room for new positive ones!!

Dance. We know you have your first dance ahead of you but why not incorporate a dance with each other once the ceremony has been concluded. Or ask that everyone attending the wedding dance down the aisle to their seats. This is not only a good way to include your guests, but also a way for them to offer their blessing and start the ceremony off with a bang . After all, they aren't just there for the party, they are also there to act as witnesses to your very sacred promise.

Have you heard of handfasting? This is an old Pagan ritual that you can incorporate into your secular or not so secular ceremony. The handfasting ritual is where the bride and groom bind their hands together with a ribbon or some sort of cloth to symbolize the unity of marriage. Maybe you have a special piece of clothing or a blanket that means something to you, perhaps from when you first met or your first date?

Write your own vows! Yes, we know this is obvious, but nothing is more meaningful than reaching deep inside and speaking words directly from your heart to the person you are choosing to spend the rest of your life with. We witnessed a wedding once where the groom admitted he had the bride's friend write his vows for him and it was a shame. This is an opportunity to speak soul to soul with your partner about something that truly matters to you both, so take it!

Have your guests bless your rings. After all, they are the main symbol of your wedding: the circle of life and love. Ask your officiant to pass around your rings in a box so that your guests can make a blessing or prayer on them. If you aren't comfortable with all of your guests doing this because you are having a larger wedding or know that some of your friends would be uncomfortable with this, then just ask close family and friend (front row guests).

Have a moment of meditation or prayer to connect with each other once you have made it official but before you seal it with a kiss. Take each other's hands, close your eyes and connect—this one is as simple as it gets but it allows you both a moment to feel your first moments of unity—soak it in before the party and your guests take you away.
These are just a few ideas but the main point is—make it your own. You don't have to be very spiritual to incorporate a bit of loving intention into your ceremony. Rituals can add that little bit of extra connection you are looking for with your partner on your big day of love. Don't be afraid of it!